---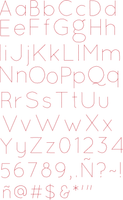 This cute little font would be perfect for wedding hankies, quilt labels, or anywhere a clean small font would be required. This versatile font is scalable from 1/4" to 3".
The font comes with upper and lower case letters, punctuation and symbols.
Native bx fonts are designed to be used with Embrilliance Embroidery software.
The free Express version of Embrilliance is available here:
https://embrilliance.com/downloads